Flashback to freshman year of college: you're sitting in a huge lecture room with 200 other students. By the end of the semester, you're lucky if your professor even knows your name, let alone your accomplishments, talents and progress.
For some, this is a typical college experience. Sit through the classes, complete the homework, head on your merry way after four years with a pat on the back and a diploma.
For others, either high school graduates or prospectives that are in the process of college searching, this is more like a flash forward resembling a nightmare.
Isn't college supposed to be about growth? It's a time for finding your talent, finding yourself, developing your skills and gaining experience that will prepare you for your life pursuits after graduation.
Nossi College of Art prides itself on being a college that interacts with students and helps them gain valuable experience both in and out of the classroom. That's why Nossi College of Art is asking applicants, prospective students and those interested in going to an interactive college that allows students to grow into their full potential to #ActivateYourTalent.
Right from the beginning of the application and admissions process, Nossi College of Art is asking prospective students to challenge their skills, showcase their talent and get more involved with their future college experience.
Everyone loves a challenge right?
From now through the end of the fall semester, Nossi College of Art will be sending a little extra fun along with information about the college.
Meet ōssi the robot.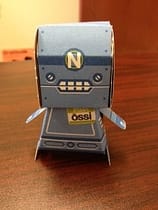 This irresistible little robot will be paying a visit to those interested in applying, visiting or getting more information about attending Nossi College of Art. With ōssi, comes a challenge for our prospective students. By visiting nossi.edu/robot, prospective students can sign up for more information and their own personal  ōssi, making them eligible to participate in Nossi College of Art's #ActivateYourTalent contest.
All prospective applicants that capture ōssi in action with a hashtag, will have a chance to win an iPad Mini! This contest is a way for prospective students to get creative, showcase your talent and put those social media skills to good use! Once you capture ōssi in action, use Instagram, Twitter or Vine to let us know how you've decided to #ActivateYourTalent.
Nossi College of Art strives to go beyond the average classroom experience for our students, and our prospective students are no different! By activating your talent and getting involved with your college application process, you can get a taste of what it's like to go to a creative college.
Looking for more information on the Nossi Experience and degree programs? Check out our website and request a visit from ōssi.