If someone asked you to compare the creative process to anything in the world, what would you compare it to? I want you to keep that in mind. This piece is going to introduce you to an ambitious and innovative young woman who gave birth to big dreams while living in a small town.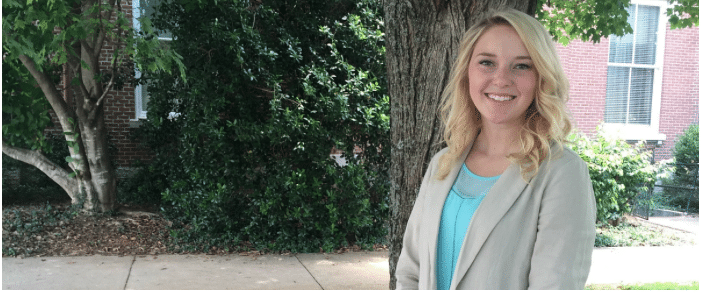 Hey, my name is Shelby Deaton… well Piatt as of October 2015. I will answer to both though. I am a recent graduate from Nossi College of Art where I earned my Bachelor's degree in Graphic Design Media. That is also where I found my passion for the advertising industry.
I grew up in the small town of Lynchburg, TN (yes, that is where they make Jack Daniels Whiskey and yes, we are a dry county). Creativity has always been a part of my life. I was that kid who always asked for art supplies for Christmas (One super pack of scented markers and assorted construction paper, please Santa). When the new school year came around I always got a new "spacemaker" art box- you know the one… and of course fresh supplies. Even with my Spacemaker full of art supplies and dreams of arting for life, I knew being from a small town and making a career out of an art degree would be challenging. But I like a challenge. So I left the comfort of my small town and headed to Nashville, TN to pursue to my dream.
Nossi College of Art & Design became my temporary home. It's where I fell in love with Graphic Design and everything that came with it. Nossi's Graphic Design program challenged me daily and helped me learn a little bit of everything about life, love, and the pursuit of a career in advertising.
As I learned about the creative process, design, and the strategy behind it all, I quickly realized that I had underestimated what I could learn from my little hometown. Much to my delight (and now I give this delight to you) I realized how similar the advertising process and the Jack Daniels' distilling process were. So grab your glass of Tennessee whiskey and listen up:
Much like the making of Jack Daniels whiskey, creative products go through various stages before making it to what we consume. That sweet brown whiskey has to go through a "mellowing" process before it become what we all love. "Mellowing" for the whiskey means the special mash mix  is distilled then filtered through stacks of sugar maple charcoal, simple but significant. School taught me that the beginning of the creative process is very similar: your research and ideas come together, a special mix of your team and their experiences, and then those ideas are distilled through the brainstorming and meetings with all those involved. Then the whiskeys off to be stored in barrels for years. In the creative process we may not have years, but we do have to give our ideas time to marinate. Next, the whiskey has to be cut to proof. This is much like refining your strategy; taking your best idea and making sure it is polished and ready to go. Then after the whiskey is perfected it is off to be put into bottles, this is the final part of the creative process, the printing, the publishing, and that final sigh of relief. Those are general steps in both processes but we cannot forget the attention to detail found in each. Jack Daniels handcrafts every single barrel that the whiskey is stored in, now that's special. Details are also very important in the creative process. The big ideas have to be personal, the artwork has to evoke an emotion, and the presentation of it all has to be precise. In the end, the final result is worth all the effort put in because you end up with something spectacular, unique, and memorable.
When I am not hanging out in Lynchburg, designing or nit-picking typography on a menu at a restaurant you can find me enjoying the outdoors with my husband. I also enjoy long naps, anything that has to do with squirrels or corgis, and making memories with my friends on the weekends.
I am looking forward to my time here at Barker & Christol. I am stoked to learn from people who have been in the advertising industry for years. I cannot wait to sharpen my skills as a designer and learn more about the research that goes into marketing.  I am truly humbled to be part of this awesome team.