By Les Kerr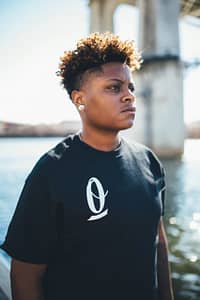 Nicky Drake's life proves the advantage of defining one's passion and pursuing it. As she was about to follow a career path in nursing, she discovered photography was really what captured her heart.
"I got accepted into nursing school and then realized that's not what I wanted to do every day. I took some time to get to know myself and find what my passions were," said Nicky about a six-month period between almost entering nursing school and enrolling at Nossi College of Art. "The first thing I picked up was a camera."
What started as a hobby during her years at Nashville's McGavock High School evolved into a successful career and business called The Company Photography. In high school, she took an introduction to photography course and began photographing her friends. People are still her favorite subjects.
"I asked all of my friends, 'please let me take pictures of you,'" Nicky said.  Her client base and subject matter now extend far beyond friends to events, concerts and musicians. Promotional and commercial art are also in the mix. She likes shooting concerts because of the spontaneity and pressure of knowing the shots are not set up and that once the opportunity has passed, it may be impossible to capture a certain moment again.
Nicky said her undergraduate experience at Nossi College began as love at first sight. She enrolled the day she toured the campus, realizing the encouraging climate was just what she needed to move her dream forward. Nossi's teachers made a big impact and she uses what they taught her at every professional shoot.
Of the late Donnie Beachamp, Nicky said, "He wouldn't let you be content with just being a mediocre photographer. Even when you were good, he challenged you to be better."
After he was no longer her teacher, Nicky still showed Beachamp her photos to get his opinion on her progress. Another teacher Nicky credits with encouraging her to "think outside the box" was Alan Whitman, whose knowledge of art history and photographic creativity were inspiring.
As an undergraduate, Nicky became the founding president of Nossi College's Kappa Pi International Honorary Art Society chapter. She enjoys the common interest in art among members.
"They come together to share their work and their skills," she said. "They share feedback and bounce intellectual ideas off one another and they are helpful in the college and in the community."
A scheduled volunteer day on April 2, the group headed to Cheekwood Botanical Garden and Museum of Art to clean the grounds, assist in the arts area as well as other areas.
"That is a way that we are directly helping the community," Nicky said, referring to Cheekwood's popularity as a regional attraction. "At the same time, we're helping the art community."
Now, with professional experience and life in the real world in her portfolio, Nicky is coming back to Nossi College as an intern. Her degree was in Commercial Photography and the internship will focus on communications, public relations and marketing.
"I want to be a creative powerhouse," Nicky boldly states.
For anyone who has met her, it's easy to see that she is already achieving that goal. Click on the images below to interact with Nicky's photography.