Young graphic artists don't dream of setting type for plastic phone faceplates that tell hotel guests how to call room service. But such a job helped Tracy Ratliff survive while she got on her feet professionally. Now the owner of Paisley Pen Creative, she laughs about those days but says she always expected to do whatever it took to realize her vision.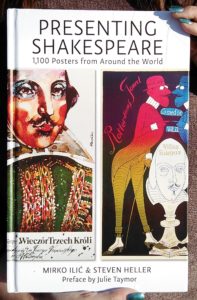 Thanks to Tracy's vision and commitment, her creations have been utilized by advertising agencies, media corporations, musicians and publications throughout the U.S. She is an illustrator for Discovery Communications, the parent company of Discovery Channel and TLC. In addition, Rubicon BBQ of Chicago, the Nashville Children's Theater, Spring Air Mattress and a coupon publication in Hopkinsville, Ky., have enlisted Tracy to design for them. Tracy's poster for Nashville Shakespeare Festival's Hamlet was included in Presenting Shakespeare, a book featuring 1,100 posters promoting Shakespeare-related events from around the world (see more in the below gallery).
The Appalachia, Virginia, native knew at age 10 that art was her calling. Her career goal never wavered and she left her small hometown to obtain a degree from the Art Institute of Pittsburgh. With determination and talent, she ventured to Nashville and, after several jobs that utilized only some of her creativity, she enrolled at Nossi College of Art to achieve the next level of success.
"I had been consistently working in my field for about 10 years," Tracy said of her stints with photography and printing companies. "I was always self-teaching. I kept up with software and always stayed on top of that. But I didn't have any web-design experience and I felt like I was in a rut."
Graphic arts methods are ever-evolving and Tracy knew there were technologies and skills that would be difficult to learn on her own. In working toward her Bachelor of Graphic Arts degree, she learned from Nossi instructors, including Bruce Stanley, Neely Catignani and Paul Edoho-Eket. Their experience combined with art direction and other graphics courses helped her think on a higher level about her craft, even though she had been practicing it for many years.
As an entrepreneur, Tracy realizes the importance recruiting clients. Her website, paisleypencreative.com, LinkedIn and other internet forums have helped. But among the biggest sources of new business for her is low-tech, word of mouth referral between clients and prospects.
Tracy was always a music fan and her skills have been utilized by nationally known music acts. Her music posters have been commissioned by music professionals and promoters from Austin to Birmingham and have been seen by concert-goers around the world. Among her musician clients are The Decemberists and Will Hoge. Perhaps her most unusual customer was the man who bought one of Tracy's music posters and said, "I'm not really a fan of this group. But I love the poster!"
Story by Les Kerr