Over his eight-year tenure, Dr. Stephen Shao continues to challenge Nossi students to uncover their brains' objective and analytical left side to complement their more dominant creative right side. Math isn't the typical class art students get excited over – more of them stress about this course, assuming a high level of difficulty. However, Dr. Shao introduces math in an enjoyable, comprehensive fashion by using stories, historical context and experiences from the students' lives.
"I like to teach because it is a challenging yet very rewarding profession," said Dr. Shao. "With teaching, one has an opportunity to make a difference, as those who teach can leave a permanent mark on their students."
Highlighting these teacher successes, the Tennessee Association of Independent Colleges and Schools (TAICS) developed awards of Outstanding Instructors to encourage and recognize self-improvement in career-focused education. TAICS presents these awards to instructors whose techniques and innovations best respond to the needs of students in vocational training.
The highest award is the Outstanding Instructor of the Year, requiring the highest standards in classroom management, teaching techniques and instructor innovation in responding to the needs of students and their career goals.
All schools who are active members of TAICS are allowed one nomination from their administration to be reviewed by a three-person award panel. With over 30 member schools, competition for this award can be tough.
"The work of Dr. Shao speaks to not only the dedication and commitment he brings to this learning process but also to the high quality of the education provided his students," said Dr. J. Gary Adcox, TAICS Executive Director. "The outstanding work of Dr. Shao reflects great credit upon himself and the institutions and students he serves."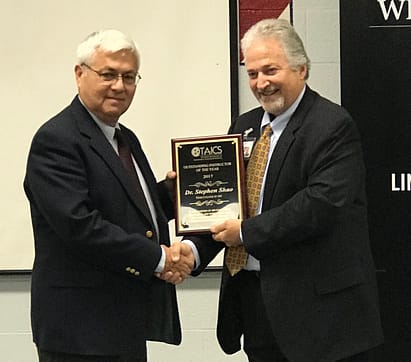 Dr. Shao receives the 2017 Instructor of the Year Award from TAICS President, Jim Coakley
"(Dr. Shao) is an extremely effective instructor," said Dr. Edwards, Vice President of Academic Affairs. "During his long career, Dr. Shao has been presented with over 170 awards including the Outstanding Faculty Researcher Award and the Outstanding Teacher Award. He has presented dozens of workshops and seminars all across the globe, from Ireland to Australia."
Over his eight years at Nossi College of Art, Dr. Shao has been the topic of many student reviews. He has yet to receive a negative evaluation from his students.
"I believe that my years as an educator, along with my life experiences outside the classroom, have given me a useful and interesting perspective in which to present the topics I teach to young people," said Dr. Shao. "A combination of good content, relatable experiences and occasional humor, has been an effective classroom learning recipe for me."
Ms. Nossi, president of Nossi College of Art agrees, adding, "I totally, without reservation, support Dr. Shao's nomination for this award. Without any doubt, he has always been among our very top instructors."
Outstanding Instructor recognition draws from the very best of the best in technical and career education, to be nominated is a terminus honor, to be selected speaks to the outstanding accomplishments of these men and women to improve the lives of their students while maintaining the highest academic standards.
Please help Nossi College of Art congratulate Dr. Stephen Shao for receiving this prestigious award.
Dr. Byron Edwards, VP of Academic Affairs for Nossi College of Art congratulates Dr. Shao on his award.